Figures released by the Office for National Statistics (ONS) earlier in the month show a sharp incline in the number of UK-related M&A transactions in the second quarter of 2017. Worth over £30bn pounds, Q2 saw a huge 155 deals completed in the UK – a figure that exceeds the £16.5m worth of deals that the months from January to March saw. This article will explore the prominent, yet surprising, reasons behind these statistics.
One Major Deal
The total value of all Q2 deals in the UK is clearly colossal at £30bn, and perhaps the simplest explanation points to one widely-reported transaction.
The takeover of foreign, baby milk producer Mead Johnson by UK consumer goods company Reckitt Benckiser was valued at approximately $18bn. The Slough-based firm has established itself as a giant in the consumer goods industry, demonstrated by its huge market share, with revenues reaching well over $10bn last year. Selling its large food business to US herb and spice manufacturer McCormick for a hefty £3.2bn to fund the deal, the acquisition by the MNC was a major move. The sheer magnitude of the transaction has also had a monumental impact on the figures published by ONS, with its value coming in at around $18bn – approximately half of the total for all UK deals in Q2.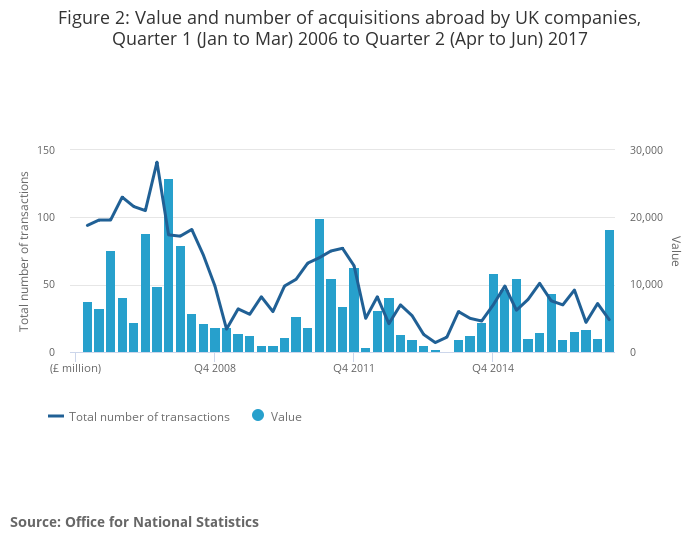 The large difference between the value and number of transactions in Q2 2017 illustrates how one deal skewed the ONS' figures
Unexpected Activity
A steep decline in the value of pound sterling since Brexit, falling to an 8-year low in August 2017, was said to indicate that acquisitions of British companies would become less expensive; an increase in foreign takeovers of UK companies was expected by analysts all over the globe. This, evidently, was not the case.
While foreign transactions which targeted British firms reached a respectable value of almost £3bn, there has been an overall fall in the amount of investment into the UK; the value of foreign disposals of UK companies completely surpassed this figure. In stark contrast and despite the weak pound, particularly in comparison to the strengthening euro, British companies' investment in M&A deals abroad has risen rapidly. Hence, it is not British companies' foreign deals that have driven the recent surge in UK M&A activity; in fact, the exact opposite can largely explain these trends.
Source: ONS 
New Markets
Brexit, while regarded as a fair representation of national views through a referendum vote, brought with it the frequently mentioned 'uncertainty' surrounding UK markets. It is this word – yet again – that provides the rationale behind why outgoing M&A deals by UK firms rose so drastically. Due to the uncertainty regarding Brexit, businesses based in the UK seek to explore new, more stable markets abroad to counteract any future negative economic effects in the UK, despite unfavourable exchange rates.
The Verdict
While past data from recent months may indicate that M&A activity is clearly on the rise in the UK, a more in-depth analysis would challenge this. In their May report for inflation, the Bank of England highlighted – yet again – that uncertainty around Brexit will be here for the short to medium run. The negative impact on overseas investment, from this uncertainty, will definitely play a key role in a milder few years for UK mergers and acquisitions.
After the triggering of Article 50, we may see a similar story- with further years of less activity in mergers and acquisitions. One potential reason for this would be stricter rules on immigration, which could lead to a loss of quality foreign employment – a phenomenon known as 'brain drain'. This would discourage foreign firms from holding their operations in the UK, with the skilled workforce being – historically – a key attraction for foreign companies.
Have your say. Sign up now to become an Author!